In case you see an error when trying to log into your EyeZy account on my.eyezy.com, try the following steps:
Make sure there are no extra spaces at the beginning and the end of both password and email.
Check that the Caps Lock button is off (if you are using a computer).
We recommend you copy and paste the login credentials into the required fields. If the system still does not accept it, try to type them in the fields manually.
Since the password is case-sensitive, please enter the password exactly as it is indicated in the welcoming email. Make sure you have both capital and lowercase letters.
In case you have already connected a device to your EyeZy account, you need to use the key file that was sent to your email address after the initial setup. If you don't use the key file, you will lose the data that has already been collected from the monitored phone.

Follow the steps below:
1. Go to the email account that you used to purchase EyeZy.
2. Enter "Key file" in the search field and find a letter from EyeZy.
3. Open the letter and download the attached key file.
4. Go to my.eyezy.com and click "Forgot Password?"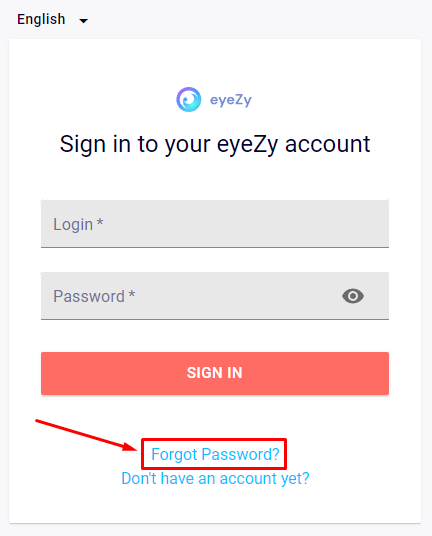 5. Enter the email that you used to purchase EyeZy and click "Reset."
6. Check your inbox. You will receive a reset password link from EyeZy.
7. Click on that link.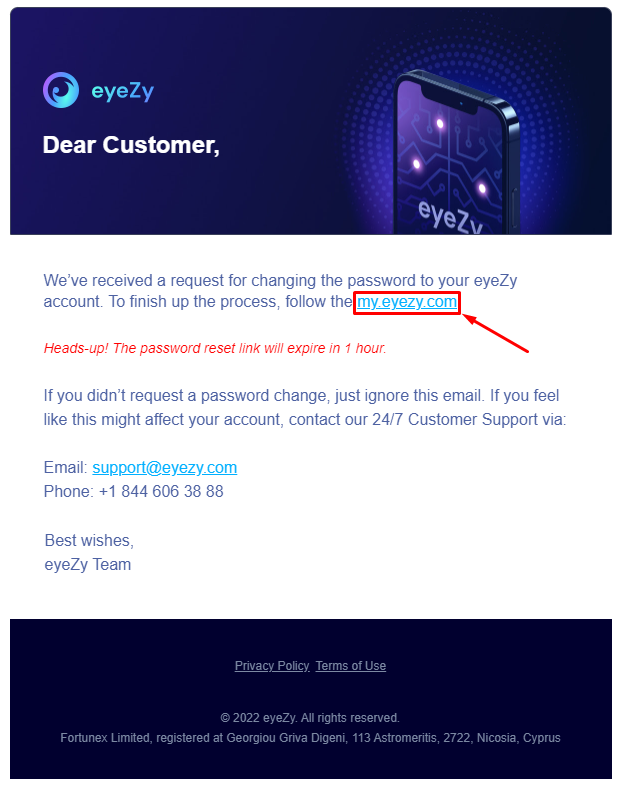 8. Enter the new password and confirm it.
9. Press "Upload" and select the key file that you downloaded.
10. Make sure the key file is attached > press "Submit."
11. Your password has been successfully reset. Log in to your EyeZy account with the new password.
12. Once you log in, you will see a notification at the top saying that you need to get the new key file. Press "Send Key File to Registered Email." You will receive a new key file just in case you need to reset the password again in the future.